Our family has a rule. We all need to sit at the dining table and eat our meals. A seemingly trifle rule to some but one that holds great place of honor in our home, mainly because we have so many wonderful food-related memories and fantastic conversations that have sparked off as a result of the same.
I have to admit it hasn't always been an easy chore especially when our kids were younger. My little man (who is now 3) has provided enough entertainment as a 1 year old thanks to his eyes always being bigger than his tummy at the time! If big sis had something in her plate, he needed to have the same. If she was drinking something out of a glass, he needed to be drinking the same too. The result?
Colorful messes! Tons of photographs!…
And priceless milk moustaches!! (I know. The debate of moustache vs. mustache…never ends!)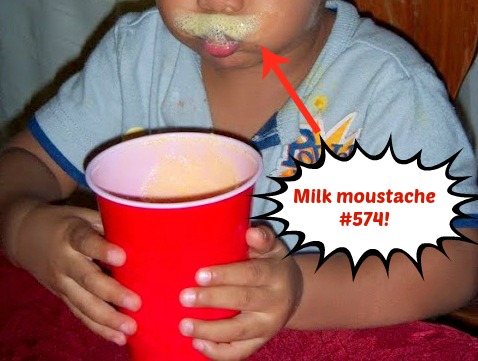 My son is famous for them. He has pictures of him sporting one in practically every color, shape and size! My daughter on the other hand was a cleaner eater. I think it was also because she was our first child and we were the over-protective parents who wanted to make sure she stayed clean, germ free, ick free. Poor thing…we robbed her of messy food fun and milk moustache memories!
Do you have any fun food stories that involve your kids?
I'm sure you have more than just a few!
Well, Happy Family Brands has set up a platform where you can share your funny kids-meet-food stories on…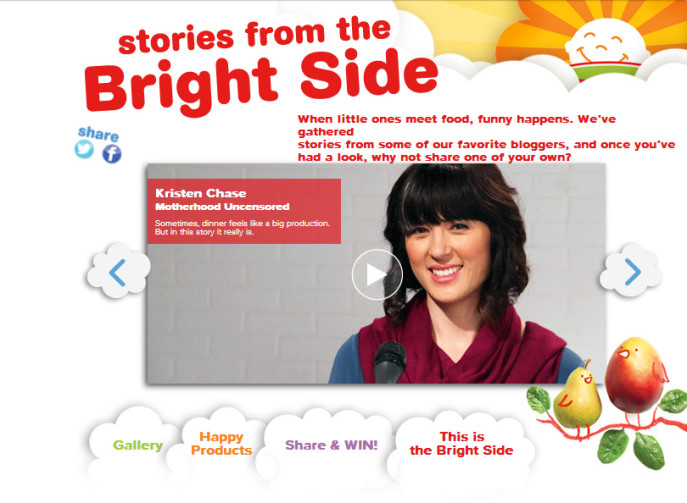 a contest where you could win 20,000 US$ towards college, for your child!
If you're a little inhibited about sharing your story either in word or on video, I encourage you to watch the 7  featured bloggers share their funny stories…
and you will know you are not alone!
Besides sharing one funny story for a chance to win 20,000 US$ is pretty sweet, wouldn't you think?!
How to enter the Stories From The Bright Side Contest…
Step 1. Visit the Happy Family Facebook Page and yes, they'd love your appreciative "like" when you visit
Step 2. Click on the Share & WIN! tab on the bottom
Step 3. Submit your entry, either in words or as a video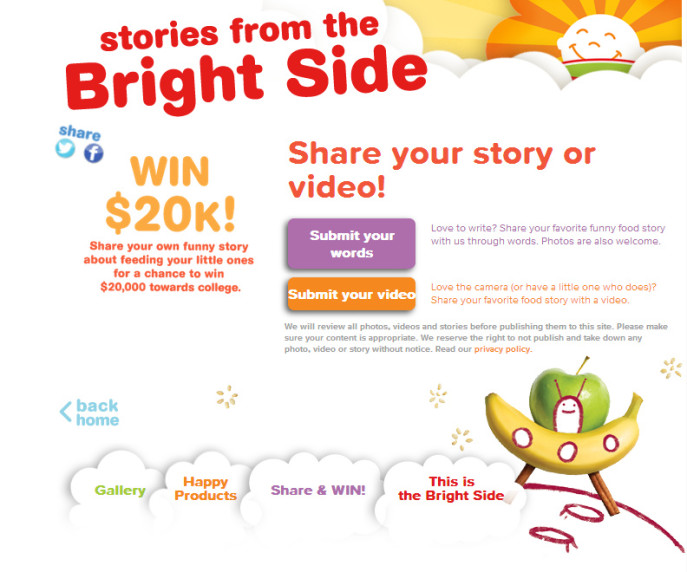 Step 4. Wait and hope that your entry will be the "Story From The Bright Side" that wins!
I'm thinking I may enter the story of how my then 2 year old refused to eat watermelon chunks pre-served into bowls but chose to help himself to the halved watermelon sitting on the kitchen table, armed with a spoon and an appetite! (Oh and I have to add here that he knew that the pits needed to be spat out, so made sure he spat them out back into the pool of watermelon juice he'd created in the halved shell!)
For more buzz on Happy Family Brands:
Happy Family is a brand of organic food products for babies, toddlers and growing kids packed with flavor and nutrition. You can try their products from a store near you by using this coupon for 1$ off any two Happy Baby or Happy Tot pouches

or this one for 50 cents off any Happy Family organic snacks and/or meals.
What's awesome is that the proceeds from every Happy Family brand product purchased helps support Project Peanut Butter, a wonderful non-profit that feeds starving children in Malawi, Mawi and Sierra Leone.