Yes, it's that time of the year again.
That time when Moms go paranoid disinfecting, sanitizing and washing areas in their home, possessions owned and children…gazillion times…at least!
Yes, that dreaded three lettered season that's whispered with sinister hatred…
It's Flu Season…AGAIN! 
I'm thankful that my family stayed healthy all through last year till Christmas Eve, when Mama got hit with a mild strain of the flu.
Being pregnant in my third trimester at the time, and having friends over for dinner the next night, did nothing to pack energy into my battered, weak, body.
The rest was much needed but honestly it didn't feel like I was relaxing in a hammock some place serene.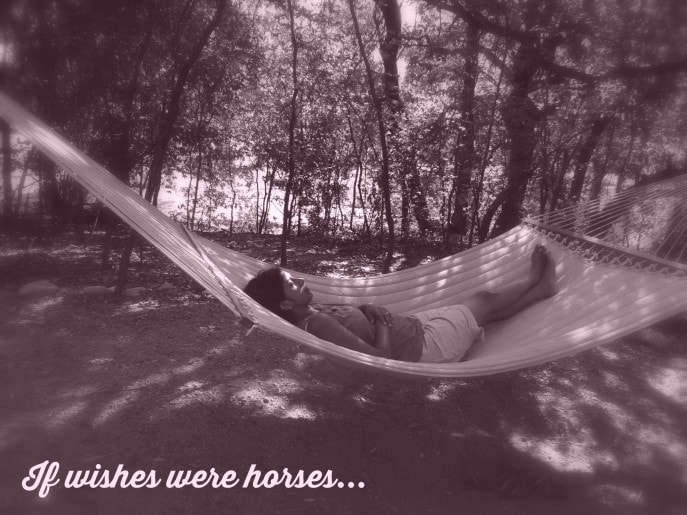 I felt like a truck had hit me from all sides and being someone who needs to have everything in place for the holidays, knowing that I had no energy to do anything made me feel worse!
That memory was enough to get me prepped this year to do my part to ward away the flu.
/
Operation Ward Off Flu with the Staples Flu Center begins!!
Now I know there are things that are within my control and things that aren't. While I'm trusting God to protect my family in health, I know I'm expected to do my part too.
Thanks to inspiration from the Staples Flu Center , Operation Ward Off comes into play.
.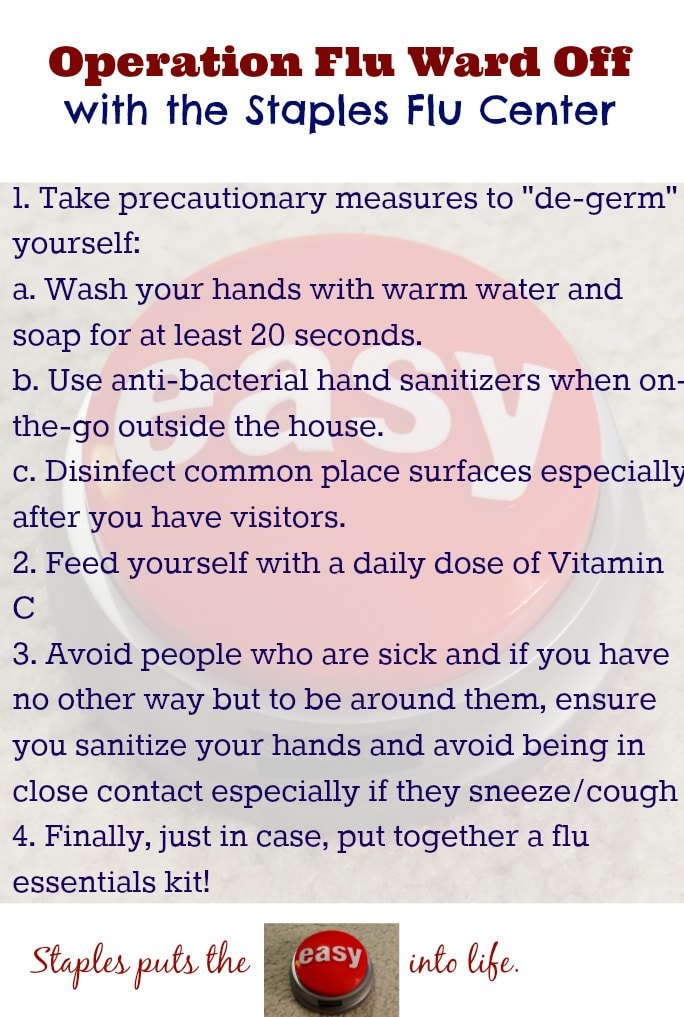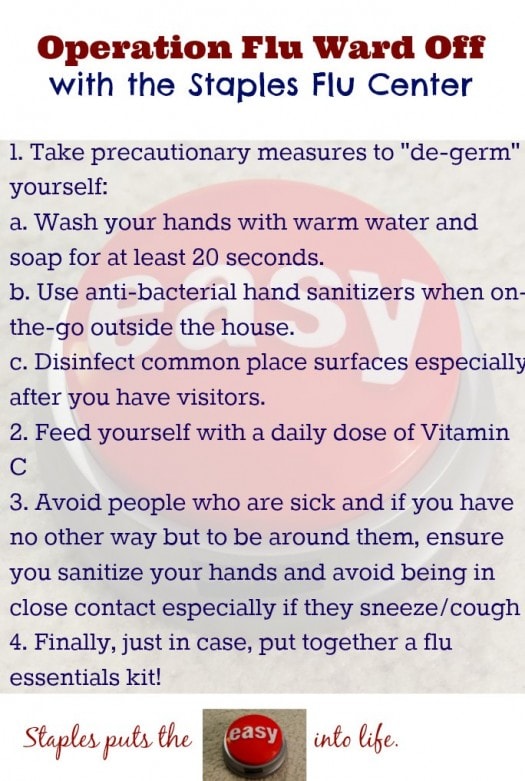 .
Yes, putting together a flu kit with essentials is definitely suggested. 
You could just end up in bed with the sniffles, when least expected, like me.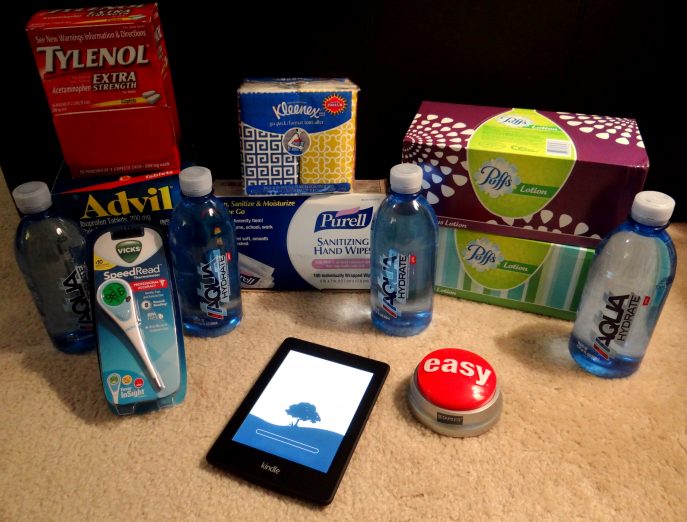 Having a stash of Tylenol and Advil in your medicine cabinet, along with that handy thermometer, is always recommended.
Plus, to avoid germ sprays from hitting family members, have a box of tissues near by and yes, a handful of sanitizing wipes too. (The last thing you would want is the family in bed with the flu bug, right?)
While I had all this lined up for me when ill, I totally missed out on the opportunity to make "lemonade with my lemons" situation.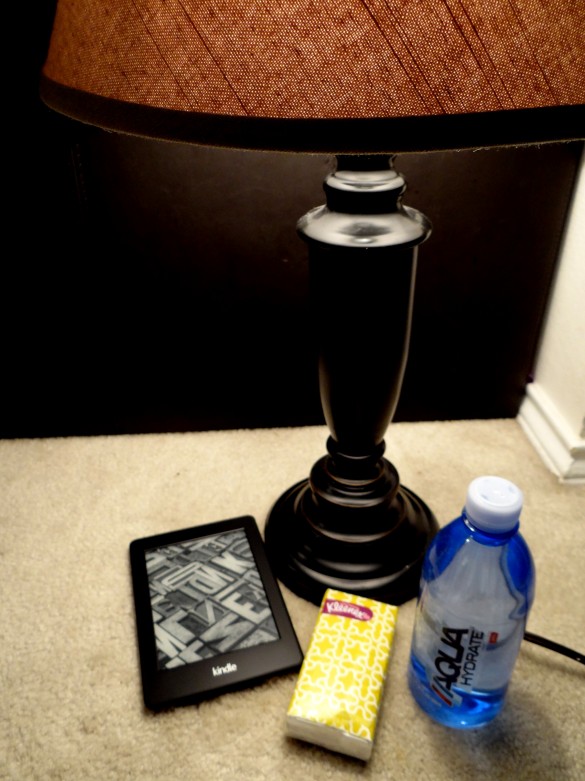 I really should have caught up on all my reading. (Sigh!)
Oh and in case you're wondering, you can grab all your flu kit essentials from your local Staples store and grab a Kindle to do a little reading too! (They really do have some great deals out there.)
Yep! They definitely do put the easy into life!!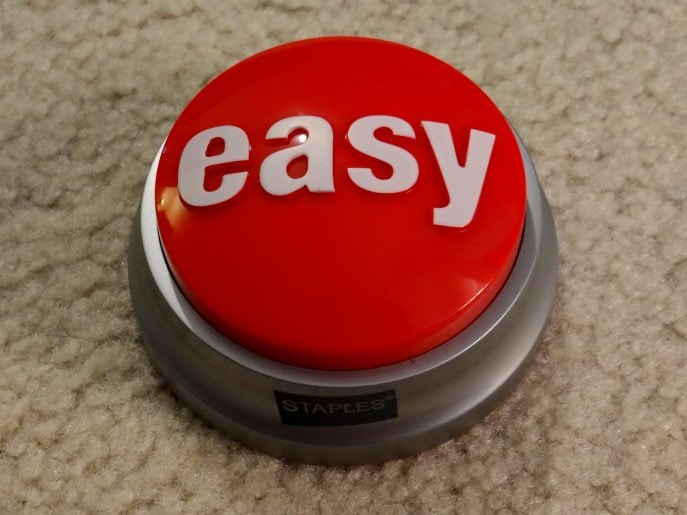 /
Tell me, what's one essential you would add in my Staples Flu Center inspired Flu Essentials Kit?