With 2014 rolling in, a bunch of resolutions and must-dos follow suit. And with our daughter arriving at the end of February, preparing for her arrival is also slowly kicking into high gear.
That's why a box crammed with Handi-foil containers to try out, could not have come at a better time.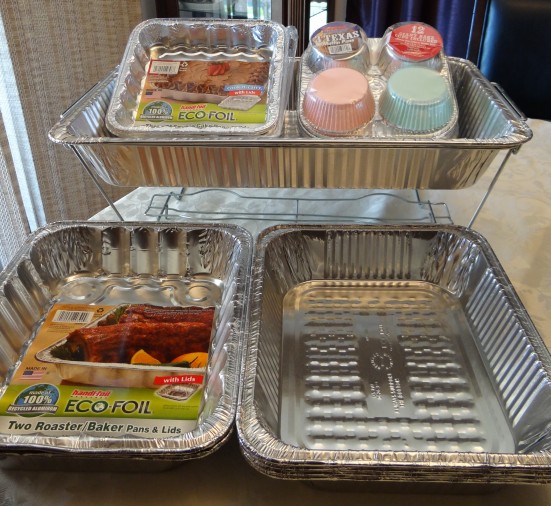 You would know, by now, based on earlier posts, that we're huge Handi-foil users . Not just for entertaining or for food gifts but also for our personal use at home.
The large roaster pans are great for making Indian spiced rice in bulk and the square pans to bake cakes , my famous spinach brownies and even veggie medleys. (No clean up later!)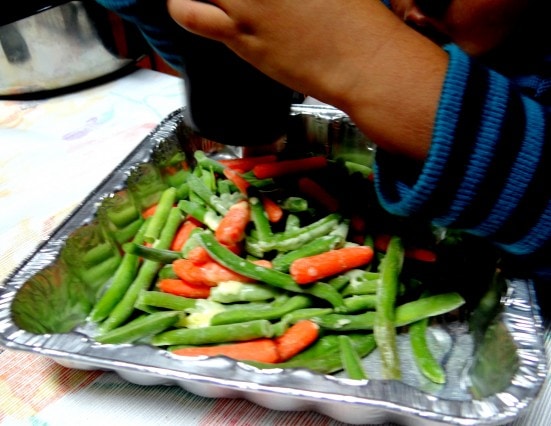 Now with baby arriving soon, we've begun doubling meals in our large Handi-foil pans, using half the portion for the meal that day and stashing the rest away, in the freezer, in one of the smaller aluminum containers with lids. This way, when baby arrives, our family continues to enjoy a healthy, home-cooked meal and we can focus on family bonding time versus slaving over a hot stove.
One recipe I enjoy repeating is my Spicy Chicken Vegetable Pasta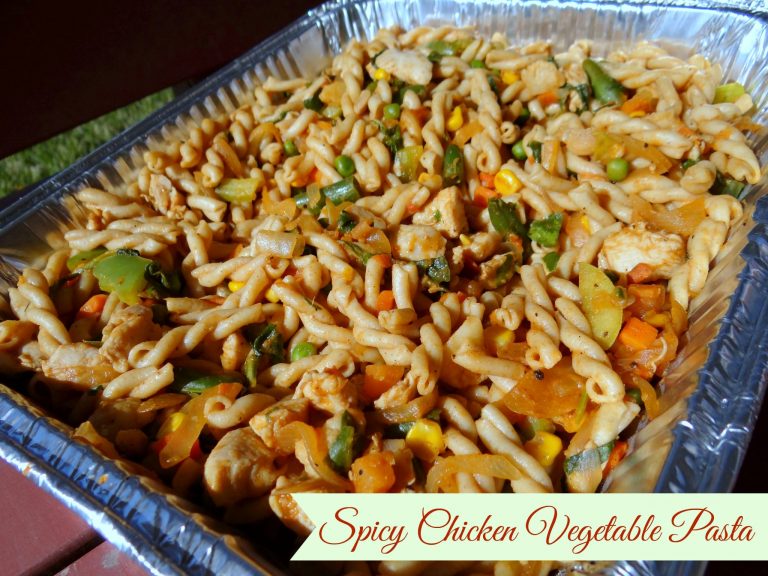 Now this isn't "Help! Where's the water?" spicy. There's just a teensy kick to it though you can always crank up the spice levels. (Why, even my 3 year old loves this!)
This is packed with healthy goodness in every form.,,
from the organic chicken, to the wheat pasta used and the assorted veggies.
Yes, this dish is a winner, if I have to say so myself!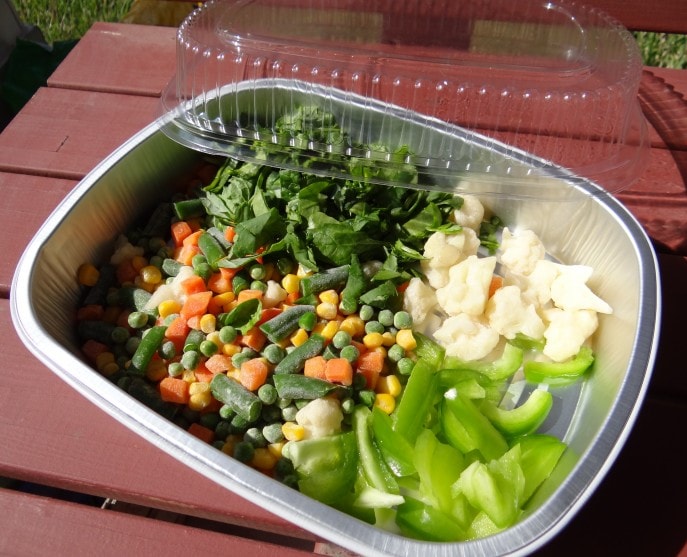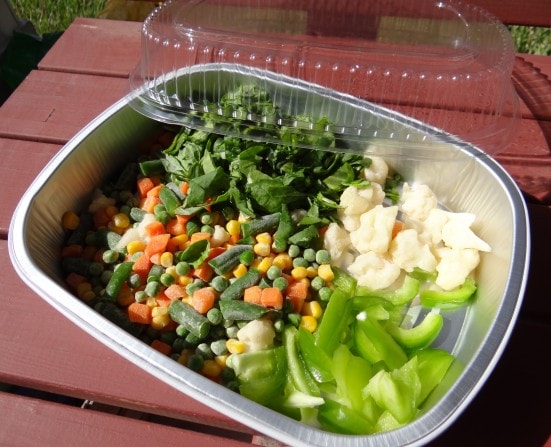 You can also switch this out with your meat of choice but we prefer chicken, mainly because white meat is considered healthier and the kids have a taste preference for the same.
Also free to add whatever veggies you have lying around in the refrigerator. There are no set rules as to what you can throw in!
Here's my Spicy Chicken Vegetable Pasta Recipe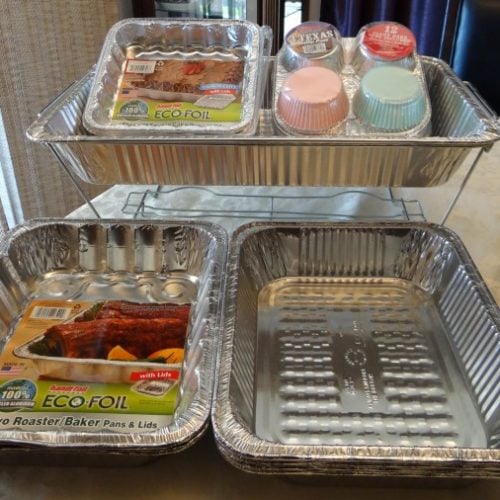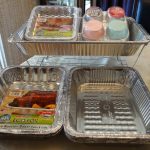 Spicy Chicken Vegetable Pasta Recipe
Our family tries to eat organic as far as is possible. You can switch out ingredients for what suits your family.
Ingredients
1/2

a pack of organic wheat pasta

we like using the spiral shaped germelli pasta

1

lb

organic

boneless chicken, cubed into tiny nuggets or cut into shreds

2

medium size onions

sliced fine

1

finely chopped tomato

big

1

serrano pepper

optional

2

tsp

ginger and garlic paste

or use freshly ground garlic and ginger

1

tsp

cumin powder

1

tbsp

coriander powder

1

tsp

paprika powder

1

tsp

garam masala

if you don't have this, improvise by taking 1" cinnamon stick, 2 cardamon pods, 2 cloves and grind them till they're finally powdered and use this instead

2

cups

fresh

organic veggies (corn, carrots, beans, cauliflower, green peppers, kale, spinach, chard)

2

tbsp

organic tomato ketchup

Freshly ground black pepper

to season

Salt

to season

Freshly squeezed lemon juice from 1 lemon

optional

Olive oil

to saute
Instructions
Cook the pasta till it's al dente and set it aside.

In a pan, add 2-3 tbsps of oil and throw in the onions to saute till golden brown

Add the serrano peppers (if using the same) and the chopped tomato and saute till the tomato pieces get pulped.

Add the paprika, coriander, cumin, garam masala, pepper and salt, Fry for a minute or so.

Add to this the raw chicken nuggets/shreds and leave till cooked.

Now add the tomato ketchup, mix well and then add all the veggies. (Since I had all my veggies frozen prior, it didn't take long to cook.. )

Saute till the veggies are slight cooked and still crunchy/crispy.

Set aside and season finally with any additional salt, pepper and/or lemon juice.
I can't wait to hear what your family thinks, after you try this out for your next meal.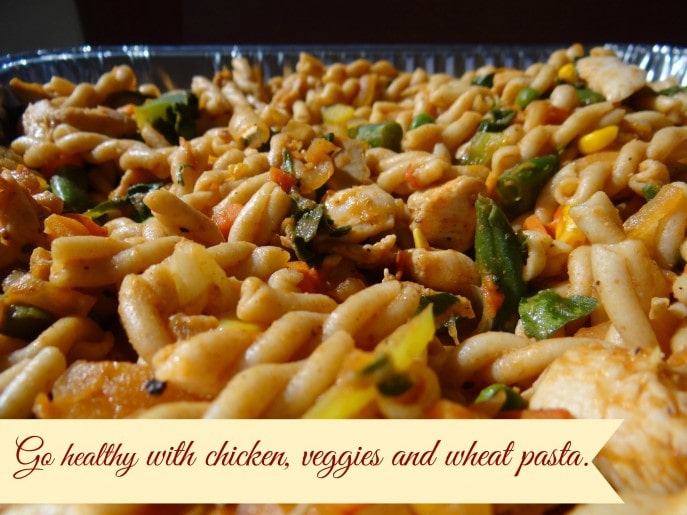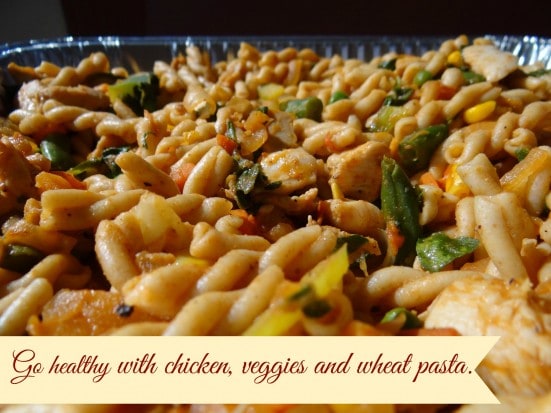 What's your favorite, healthy, go-to meal/dish?