We're huge Scholastic book fans in our home. Bunny girl has a mini collection, thanks to all the book fair, school book club and blog additions right from her early 3s to now. Bunny Boo has a few "baby" Scholastic books to his name…and when I say few I mean about 2! So when our Valentine review pack arrived I was thrilled to pull out 2 books of the 4 that are perfect for our little love bug right now.
.
Count My Kisses Little One is a sweet counting board book that goes all the way upto ten and is an apt little build up to a child's bed time. (Which in the case of the story is bedtime for the little girl's teddy "baby")
We read through the book and stopped at each page to count my kisses on each of my babies heads. (And yes Bunny girl will always be my baby even though she is quickly inching towards turning 6!!) This made the story much more fun!
.
I am Small is narrated by a little penguin who finds that everything around him is STEEP, DEEP, LONG and even FAST…all very intimidating for a little being. And while snuggling close to his Mama he acknowledges that she too is BIG but…he feels warmth, love and security around her.
This was a little grown up for Bunny Boo but Bunny girl and I enjoyed this book so much. The way it ended called for a big family hug!
.
Hugaboo, I love you is a "lift the flap" book  describing the various sorts of hugs animal babies get from their Mamas. The book ends with a hugaboo-tiful surprise!
m
I Love You Always and Forever is a classic favorite featuring Longtail and Littletail. It's another heart warming book that shows the beautiful bond of love a parent shares with his/her child.
This favorite never grows old!
Win it:
One reader will win a Scholastic Valentine Book Pack that will include all 4 featured books.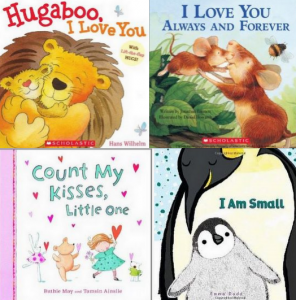 .
.
Here's how you can win it:
Use the Rafflecopter form provided below to enter this giveaway. Entries not recorded in the same will be disqualified.
.


a Rafflecopter giveaway