– E.B. Mommy will be compensated for sharing this Teen Health initiative.-
When our children are young we recognize the need to take them in for regular medical check-ups.
As they grow, haven't you noticed how the frequency of check-ups reduces?
Sadly, by the time those teenage years roll in, most parents don't even take their kids in for a check-up.
The National Foundation For Infectious Diseases conducted a "Teen Health" survey with a focus group of 2000 samples ( 504 teens aged 13-17,500 parents of teens aged 13-17, and 1,325 health care providers, including pediatricians, primary care physicians, nurse practitioners, physician assistants, registered nurses, and licensed practical nurses) …
and shockingly discovered that one third of those teens may have been missing annual wellness visits to their family doctors!
There are various perceptions about teen health.
Some of these perceptions include…

And despite not making those annual check-ups, it was found that two out of every three of these very same teens were actually worried about their health!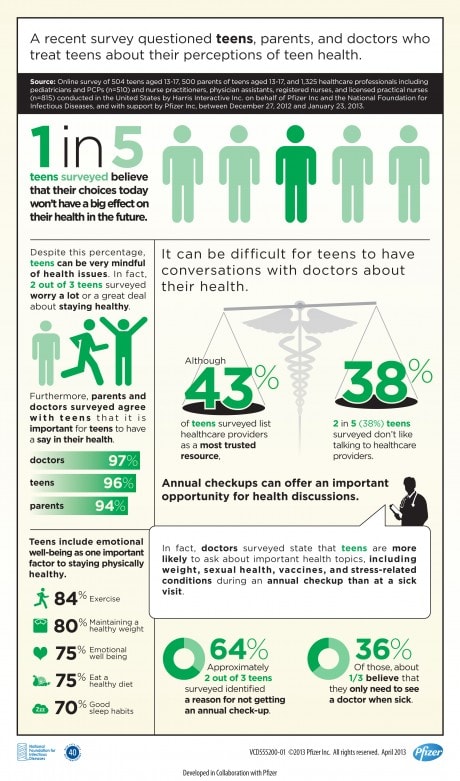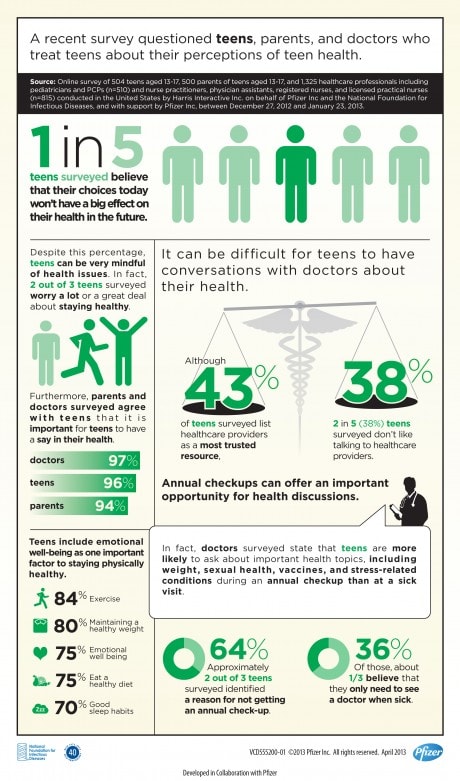 Why teens need these annual/frequent check-ups.
Many teens surveyed felt it was only necessary to visit a doctor when sick but the truth is an annual wellness visit to a family practitioner is always recommended. 

Issues like anorexia, bulimia, transmitted diseases can be nipped in the bud if caught on the medical radar quickly.
Hormonal changes with the onset of puberty can also be checked up to avoid any physical, emotional or behavioral discomfort, if any.
It doesn't take much to make that appointment with the Doctor.
To give your teen a comfortable independence during the check-up, allow him/her to play an active role through the examination.
And remember, teen health should never be taken for granted…
it's always better to take the necessary steps to stay healthy now rather than be sorry later!
**EBMR Disclaimer: Energizer Bunnies' Mommy Reports will be compensated for sharing information on the Teen Health initiative. Regardless, all opinions expressed in this post are still 100% the author's own. This post reflects her views and opinions and was not reviewed or edited by a third party. The author is disclosing this in accordance with the WOMMA Ethics Code, FTC guidelines and social media engagement recommendations.**