Disclosure: "This post is part of a social shopper marketing insight campaign with Pollinate Media Group™ and Cottonelle, but all my opinions are my own. #pmedia #CottonelleHoliday  http://cmp.ly/3/8vNxcO."
I love Christmas. There's nothing about it I don't love. The days preceding, the actual day, the days following…everything.
The joy in hosting friends and loved ones in our home, whipping up a storm in the kitchen, doing Christmas crafts with the kids, baking delicious treats, decorating our home and celebrating Jesus' birthday in memorable ways, is always something I look forward to each year.
Now coming to think of it, there was perhaps one tiny little thing that just got to me, till several weeks ago, when we have friends over…
toilet roll replacing!
Most often than not, even if I've put in a fresh roll, I find myself visiting the guest loo at least once during the evening to check if the toilet roll needs to be replaced…especially if we've got our kids' friends visiting at the time.
You really can't blame kids. There's just something about a roll of toilet paper that screams "Pull me!" "Roll me!" "Lets Play!" "Take as much as you want!"
Thankfully, a trip to our local Target, last month, offered this Mama a happy solution. Something I call…
Mama's Christmas Gift For the Holidays!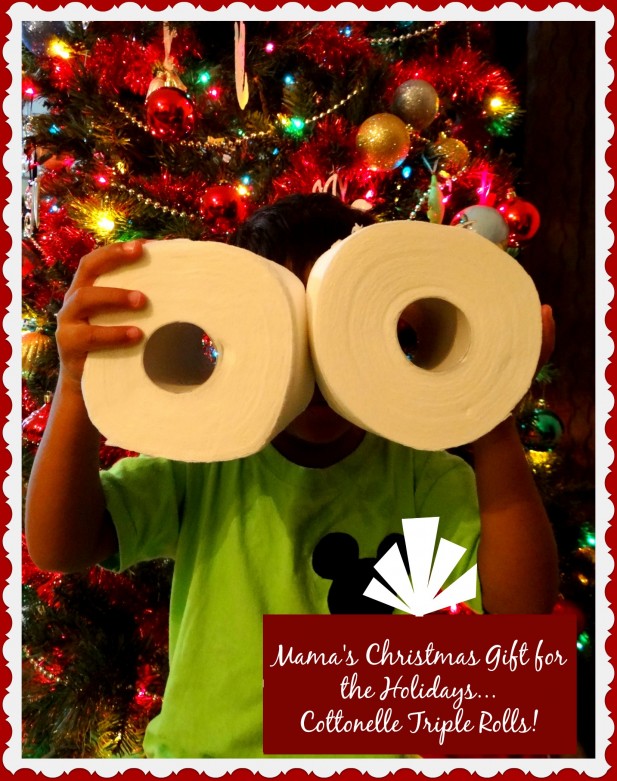 Yep! This is one practical gift that puts a huge smile on my face…
Cottonelle Triple Rolls!
These toilet paper rolls of genius are, read this carefully, three times bigger than regular rolls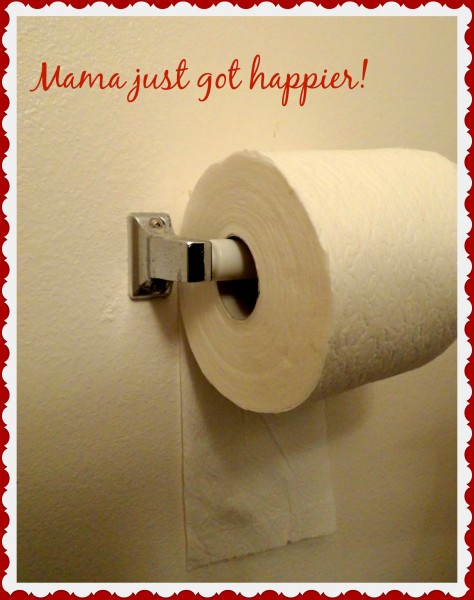 Plus if you get yourself a pretty wicker basket, dress it with some festive ribbon and add a little Christmas decor, you can place an additional roll over the "throne" (just in case, though it won't be needed) and stay comfortably away from going into the guest loo to check on the status of those rolls, while entertaining friends and family for the evening…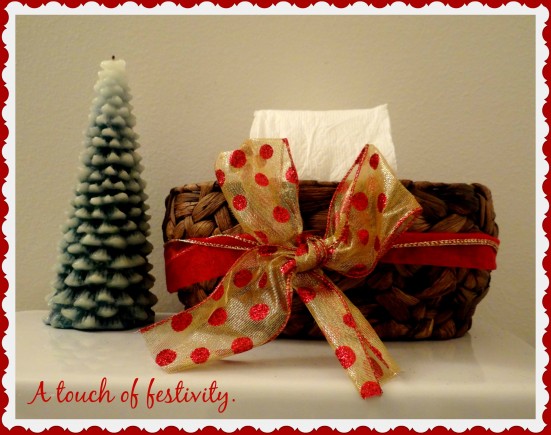 or even for the rest of the week!
.
Pssst! The toilet paper is thicker. Which means…
You can carry a few wads with you to wipe down counter-tops and spills, remove make-up, use as make-shift mats for your kids when out in public, germ infested areas and…
use in crafts!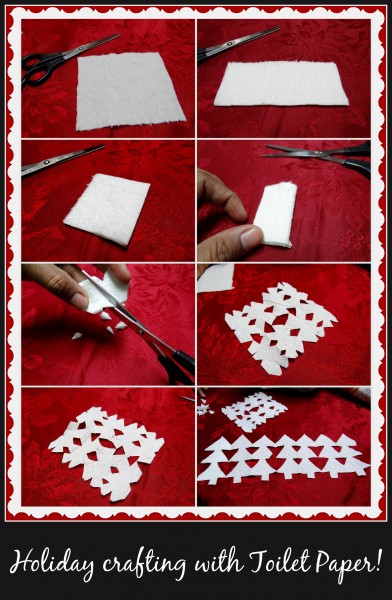 Yes, my kids and I actually folded a single square into 4-5 parts, snipped triangular pieces of toilet paper off and voila, we made toilet paper snowflakes!
With 3 squares off the roll we made paper Christmas trees as well.
(Definitely something to consider when you need to keep the kids entertained when you're stuck outdoors with the Christmas rush-rush all around. So carry a few wads in your bag and a small pair of kids' safety scissors
Get a freebie when you buy Cottonelle Triple Rolls at Target!
.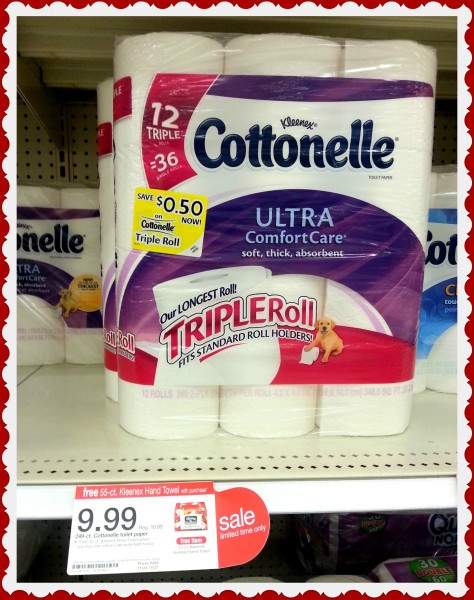 While supplies last, when you buy a Cottonelle 12 pack (or larger) of Triple Rolls at Target and use this Christmas freebie coupon, you will get a free box of Kleenex. 
Plus most packs on the shelves come with a 50 cents off coupon that may be paired with the freebie coupon.
And the freebie coupon may be printed twice off your computer, which means you can score two free boxes of Kleenex, when you buy two packs. (Yay!)
So tell me, what's the one thing that gets to you while entertaining friends and family during the holidays?