No parent can say they're fans of melt-downs.
And no, I do not have the solution to raising a tantrum-free child, but I do have a few tactics that I use with my kids to nip those mini-explosions in the bud.
I've shared this over on the Gummy Lump blog…
How to Stop a Temper Tantrum in its Tracks
I grew up in a home where temper tantrums were not tolerated. My Dad was a strict disciplinarian and if I stepped out of bounds with a dramatic melt-down, I knew I would be corrected never to repeat my award winning performances again.
He was firm, didn't tolerate any nonsense…
and it worked.
Now, as a Mom to a soon to be 7 year old and a 2 1/2 year old, I use those very same tactics my Dad would use. I agree kids cannot be dealt with using instructions from a manual, but I would suggest you give these approaches a try.
Stopping a temper tantrum in its tracks…
isn't always easy but with some determination on your part, you can nip it in the bud…
and quick!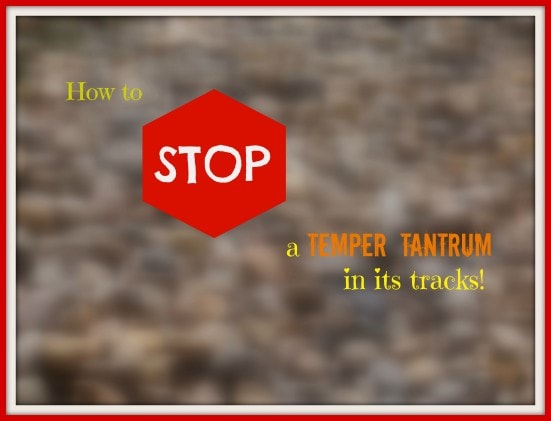 1. Wait!
If you have a younger sibling who loves to throw himself on the floor, in a fit, because he wants a toy the older sibling has, explain that he needs to wait his turn. Screaming or crying crocodile tears will not bring the toy to him any closer. He will just need to wait. (To make things easier for little children. You can set a timer to help them understand that they will get the toy when the alarm sounds.)