A Healthy Chicken Rice and Bean Soup Your Family Will Love (+ Free Printable Recipe Cards)
This post contains editorial samples and/or affiliate links to products I recommend. While this adds no additional cost to you, I will earn a small commission on any sales made.
It's a Chicken Rice and Bean Soup kind of day!
Yesterday was the first day of school for my 8-year-old.
She was excited to go back after 2 odd weeks of being off.
During the holidays, both her younger siblings fell ill with the usual coughs and colds.
She escaped the bug going round…
at least till this morning.
My poor child woke up with a mild fever, a cough, and a runny nose.
Hubs and I decided she had to stay at home to recuperate and contain the germs from spreading at school.
It wasn't enough to just recuperate with rest but we needed to do all we could to help her get better.
What this Mama does to help nip that cold in the bud:
You know I could not help but make a big mug of my homemade remedy for a sore throat. Sure, she wasn't particularly happy about it but it was important.
Up the intake of vitamin C. (On a side note, does your child get vitamin C in her diet?)Lots of TLC
Prayer and
A hearty bowl of homemade soup.
I have 50 homemade soup recipes you can choose from!
Nothing beats a bowl of homemade soup, lovingly made and prayed over.
Nothing!)
One of my favorite soups to make is a good ol' fashioned Roasted Tomato Soup.
A new favorite when I want the kids to have more than their fair share of veggies is my Clear Vegetable Soup.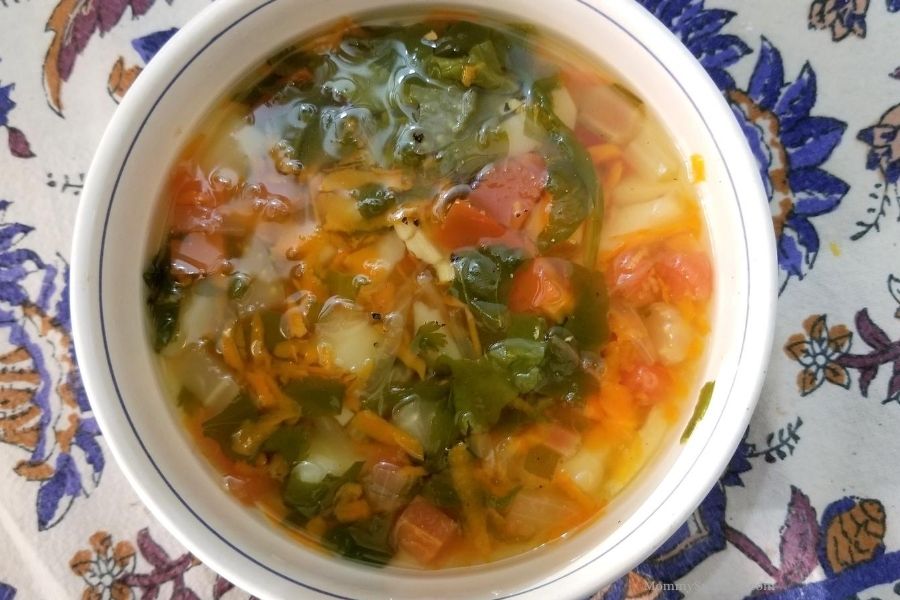 But when the kids feel under the weather, I like to turn to a chicken soup of some sort.
So this afternoon for lunch, I decided to make her a healthy chicken rice and bean soup.
The goal being to help soothe her throat and be a hearty enough bowl of goodness to satisfy her weak appetite.

Healthy Chicken Rice and Bean Soup
If you have chicken, rice, and beans at home, you're on the way to a GREAT bowl of soup!
This is practically a dump-everything-in-one-pot-and-cook kind of recipe if you have canned pinto beans and canned white beans.
I personally prefer cooking everything from scratch when time permits (and I have the resources on hand).
I did pressure cook (you can use an Instant Pot) the pre-soaked pinto beans and white beans separately before adding the same to the soup.
Honestly, if you just have black beans, use that and you will have a delicious chicken rice and black beans soup!
The type of beans you have does not matter.
Any beans work for that extra protein and nutrition!
This is a very forgiving soup, so feel free to throw in some veggies, like celery, spinach, and corn if you would like.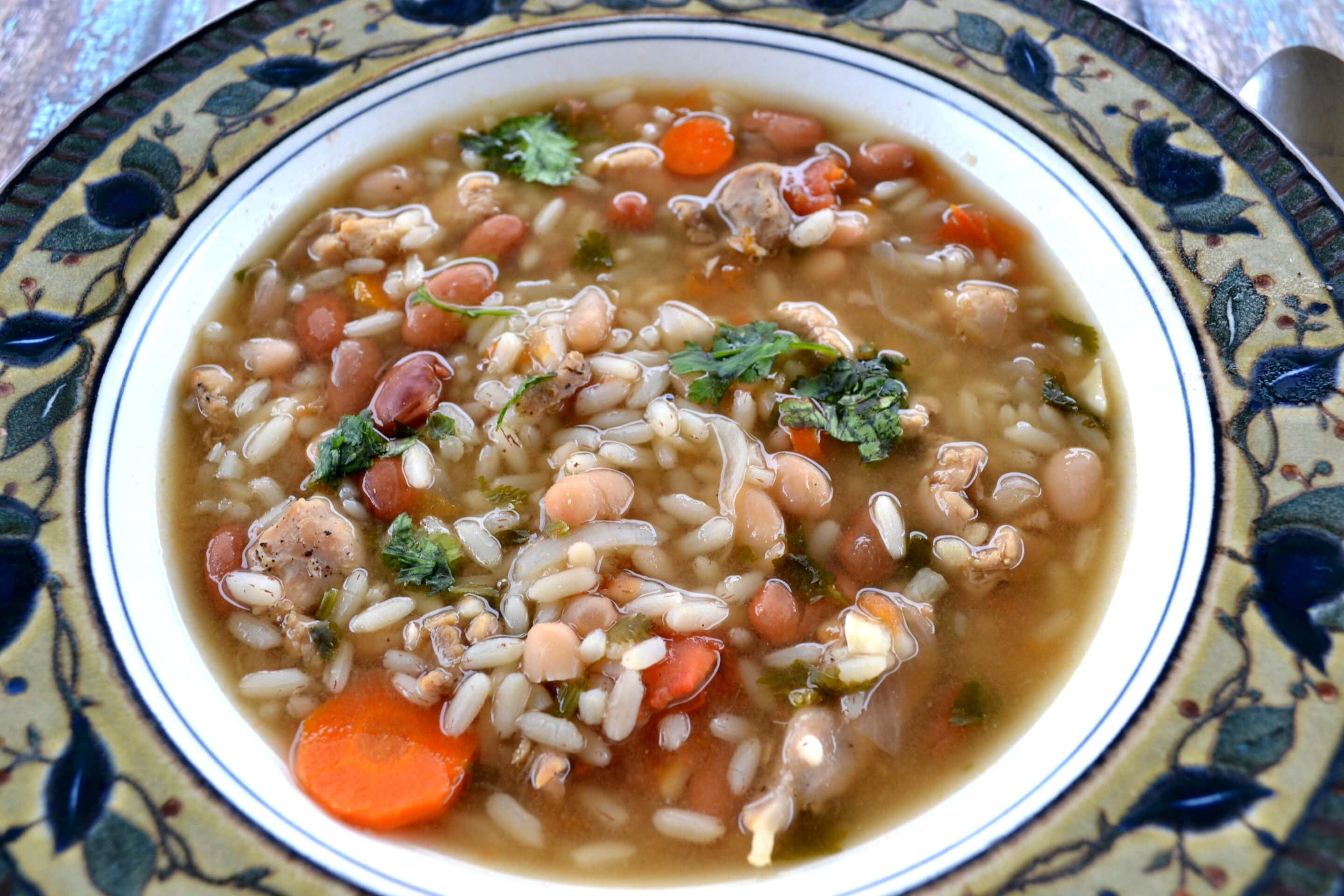 And make sure you serve this nice and hot.
If you serve this when you have friends or family over, make sure you have a few recipe cards ready to go because there will be requests for this recipe!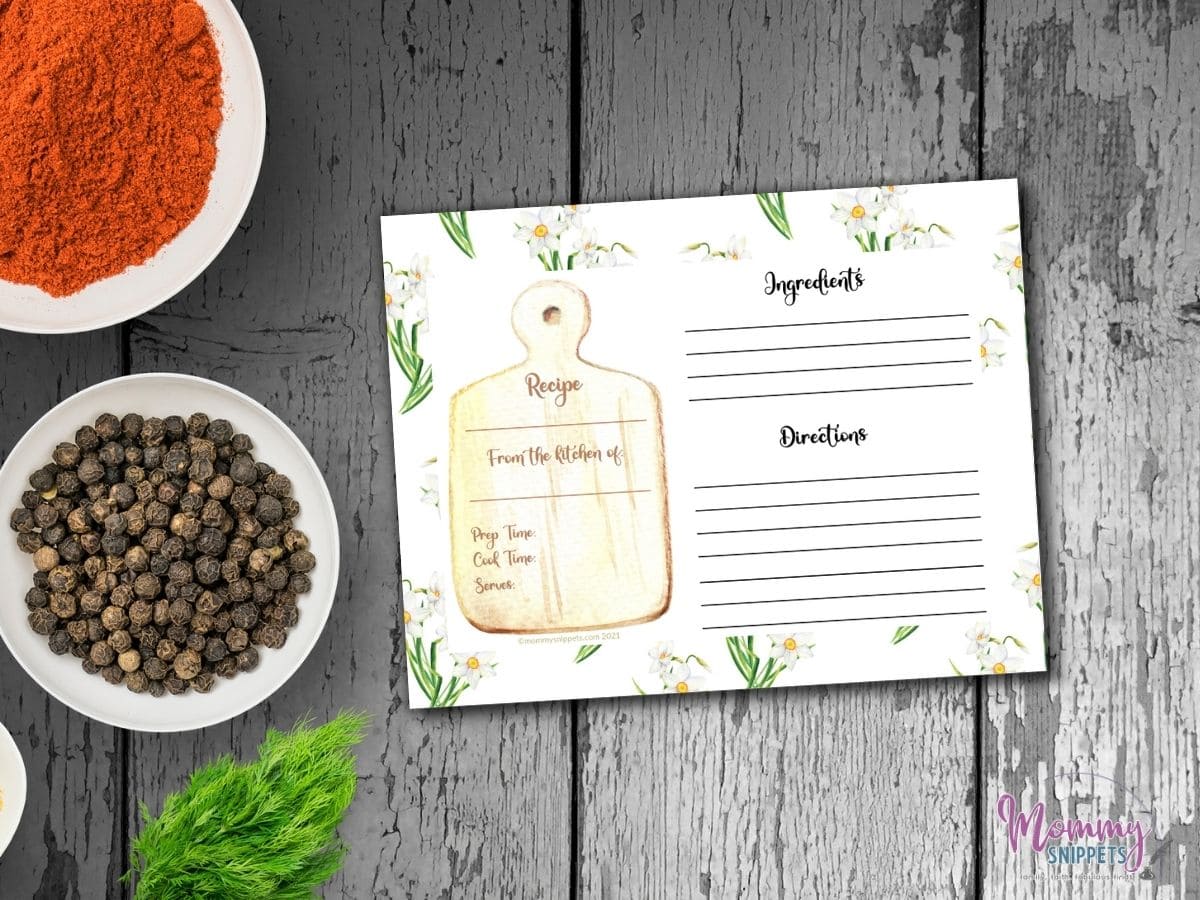 Get your set of free printable recipe cards from my

FREE Printables Library

NOW
If you've signed up for my newsletter, use the exclusive library access password to get into the library.
If this is your first time trying to access a Mommy Snippets printable, please sign up for my newsletter to get the exclusive password.
This one password will give you access to all the printables in the Mommy Snippets Community Printables Library for FREE!
Print these off on white cardstock paper.
All set to get the recipe?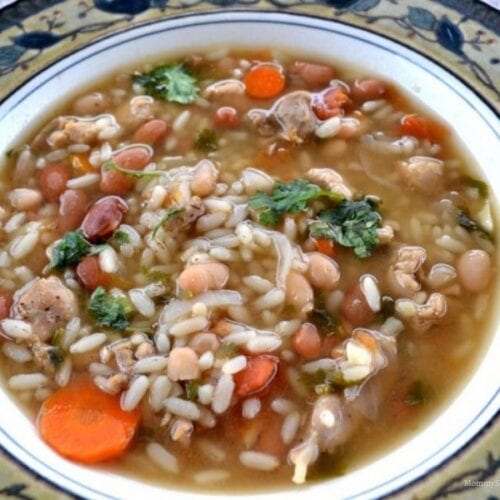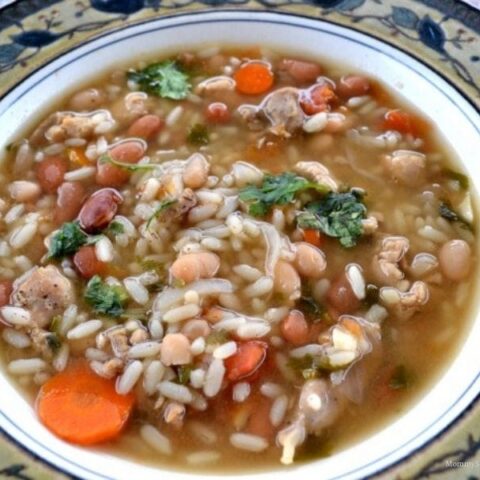 Chicken Rice and Bean Soup
Additional Time:
30 minutes
When you need to nip a cold in the bud or crave a bowl of homemade soup in cold weather, this Healthy Chicken Rice and Bean Soup is a must!
Ingredients
8 cups water
1 pound boneless chicken cut into small nuggets or strips
1 white onion-sliced
3 cloves of garlic-chopped
2 Roma tomatoes-chopped
1 cup uncooked pinto and white beans a mix or 1 cup cooked pinto beans and 1 cup white beans
2 cups carrots- sliced into thin round circles
1 cup fresh cilantro-chopped
1 cup brown rice/ Indian Matta rice I used Matta rice
2 tsp cumin powder
1 tsp coriander powder
1 - 1 1/2 tsp freshly ground pepper powder
1/8 th tsp chilli powder
Salt to flavor/season
The juice from 1 lemon
Instructions
If you're using uncooked pinto beans and white beans, pressure cook these separately with 2 cups of water and seasoned with salt and pepper. Once cooked through, set aside till ready to boil your soup.
In a soup pot, throw everything into the same (except for the lemon juice and cilantro) and bring to a boil. Then reduce the heat and allow the chicken and rice to cook on a slow heat, with the soup simmering to allow the flavors to marry well.
Once the chicken and rice are cooked, add the cilantro and take the pot off the stove.
Add the lemon juice and stir before serving ladles full of this hearty, healthy soup.
Enjoy the wholesome, comforting appeal of this soup, especially now when it's cold outdoors
Is there a particular soup you enjoy when you feel under the weather or when it's cold outdoors?
(Thanks for agreeing this soup is the one on Yummly.)