A year has passed but what happened at Sandy Hook Elementary, in Newtown on December 14, 2012,  seems like yesterday.
My daughter was the same age as the children, when the tragedy occurred last year and to even put myself in those parents' shoes is painfully hard.
A video on my Facebook stream, simply titled Evil Did Not Win, a few days ago, was a reminder that a whole year has actually passed.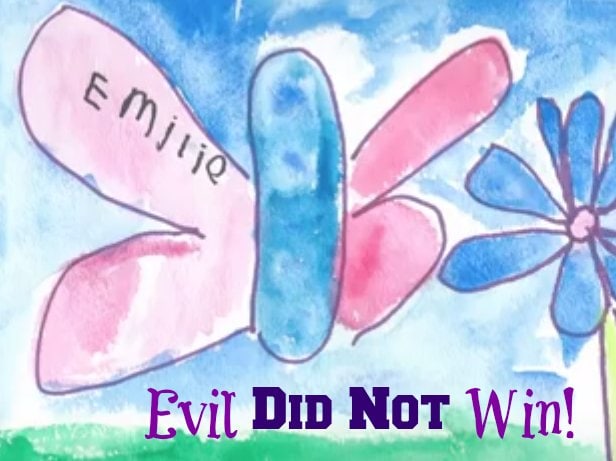 An emotional yet powerful tribute to little Emilie Parker, the video brings forth a strong encouragement, that is humanly impossible to even think of, to stem forth from such a  tragedy.
A few hours later, I received an email with the story behind the video and thought it was important to share the same with you…
.
As the anniversary of the tragic Sandy Hook shooting approaches, families of the victims continue to honor their lost sons and daughters. Like all of the families involved, Alissa and Robbie Parker, who lost their 6-year-old daughter Emilie, have struggled in ways few can comprehend. This past October, Alissa decided to sit down with producer Melissa Puente from Deseret Book and share her story in detail in a four-minute video.
For the Parkers, grief began in the public eye. They waited for hours, shoulder to shoulder with other parents, at the local firehouse until their worst fears were confirmed. Their daughter had in fact been killed. As they fled the firehouse in shock, Alissa had no idea an ocean of cameras and reporters would greet them and follow them to their car door. The media attention continued, and over the past year, like other surviving families, the Parkers have been questioned about their experiences. Now, collaborating with Puente, they felt that they could tell their story on their own terms. The Parkers wanted to communicate, in the best and clearest way possible, the main message they have experienced over the past year. That message, unequivocally, is that "evil did not win."
Initially, Alissa felt "paralyzed" by the idea of how powerful evil could be in this world. As the months progressed, however, they received thousands and thousands of letters and were the beneficiaries of acts of love and service from many individuals and organizations and they began to see clear cut evidence of a different kind of power — one of good. The majority of the letters were accounts of people's stories about faith, from a wide range of religions and spiritual perspectives. "Evil Did Not Win" has been a way for Alissa to respond to the letters and share her heartfelt appreciation for the kindness that people have shown to her and her family — such as a donated refill of their heating oil tank, countless meals, and a particularly poignant recalling of receiving a lovingly-prepared pink box from the Police Department containing the clothing their daughter had worn the day she was killed.
In the video, from her family home, Alissa details some of these specific gestures, gives viewers a look inside her family and shares personal parts of Emilie's life, including the special playroom that was being created for Emilie and her sisters at the time of her death. Additionally, Alissa wanted the video to convey that although young, it was clear that Emilie was an especially kind and loving person. Conveying a positive message in the wake of the Sandy Hook tragedy will allow Emilie to continue bringing good into the world, and hopefully lift up others, just as she did during her life. In that way, the video serves to honor her memory.
.
.
We ask that you say a prayer for the families and loved ones who have been affected by what happened at Sandy Hook that day. Today will not be easy.
Praying God's Divine Strength and Comfort embrace each one.
.
Revelation 21: 4, 5 –
And God will wipe away every tear from their eyes; there shall be no more death, nor sorrow, nor crying. There shall be no more pain, for the former things have passed away." Then He who sat on the throne said, "Behold, I make all things new." And He said to me, "Write, for these words are true and faithful."