Okay I'm on a roll here. We had a delicious Chocolate Cake recipe 2 weeks ago, Bunny girl's Chocolate Cake masterpiece yesterday, so why not bask in some more chocolate love with these yummy, crunchy  Chocolate Crinkle Cookies ?
I found this easy-peasy recipe while scouting around the Hershey's site around Christmas-time last year, so we whipped up several batches for friends and loved ones and they were a rage!
I'm sure your kiddos will love 'em!
Chocolate Crinkle Cookies 
2 cups granulated sugar
3/4 cup vegetable oil
3/4 cup Hershey's Cocoa
4 eggs
2 teaspoons vanilla extract
2 1/3 cups all-purpose flour
2 teaspoons baking powder
1/2 teaspoon salt
Powdered sugar
Combine granulated sugar and oil in large bowl; add cocoa, beating until well blended.
Beat in eggs and vanilla.
Stir together flour, baking powder and salt; gradually add to cocoa mixture, beating well.
Cover; refrigerate until dough is firm enough to handle, at least 6 hours.
Heat oven to 350°F.
Lightly grease cookie sheet or line with parchment paper.
Shape dough into about 48-50 1-inch balls; 
roll in powdered sugar to coat. Place about 2 inches apart on prepared cookie sheet.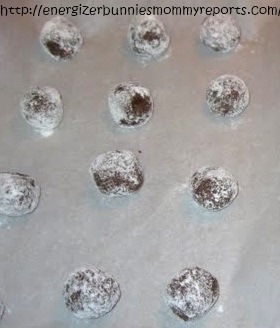 Bake 11 to 13 minutes or until almost no indentation remains when touched lightly and tops are crackled.
Cool slightly.
Remove from cookie sheet to wire rack.
Cool completely and Enjoy!