Yes, we're 18 days away from Christmas and if you're a Mom, I'm sure life's only going to get busier and more hectic as each day rolls by.
We're busy planning out cookie exchanges, Christmas crafts for the kids…
rushing from store to store (physical or online!) to finish shopping for last minute gifts…
shuttling kids from one Christmas play practice to the other…
scheduling Christmas photo shoots.
But in it all, may we stop for a moment and introspect.
Can you hear "Martha! Martha!" being whispered into your being…
a still, small, reminder?
This reminder in my inbox this morning, was my little nudge…
.
.
.
May we keep Him in perspective and recognize that the beauty of this Season is in celebrating Christ's Birth.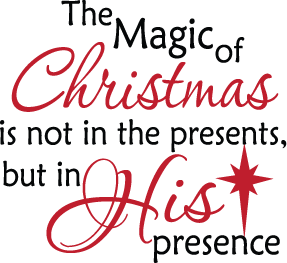 Pic. Copyright: Wall Words
.
Everything, yes, everything else is secondary.