Easy Choco-Peanut Butter Easter Cookies
This post contains editorial samples and/or affiliate links to products I recommend. While this adds no additional cost to you, I will earn a small commission on any sales made.
Every year a sweet friend of mine opens up her home to a bunch of friends to host the Annual Friends Easter Egg hunt in her backyard. And being in our corner of Texas, no Easter egg hunt is ever complete without cascarones.


Before the kids head out to the back, they attack a table laden with tasty snacks and Easter-themed treats. Most often than not, I take my improvised peanut butter-hazelnut-chocolate topped cookie recipe that has been a favorite for a good number of years now.
Easy Choco-Peanut Butter Easter Cookies.
These are so easy to make. One year I tried to make these healthier and swapped the butter for applesauce. While the cookies tasted just as good the texture was more sponge-like than crumbly so that year we called these Choco-Peanut Butter Easter Bars.
And the chocolate eggs can be a brand of your choosing, but our personal favorites are the creamy rich Lindt Lindor chocolate eggs or the Kinder mini eggs.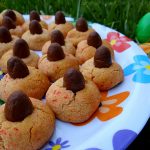 Easy Choco-Peanut Butter Easter Cookies
Out of preference, all the ingredients used were organic. You can choose either way.
Ingredients
1/2

cup

peanut butter

1/4

cup

Noccialata hazelnut spread

1/2

cup

softened butter

1/2

cup

sugar

not brown

1

egg

2

tbsps

milk

1

tsp

vanilla extract

1/2

cups

all purpose flour

1

tsp

baking soda

1/2

tsp

salt

1

pack of mini chocolate Easter eggs

Few drops of red coloring mixed in granulated sugar to get pink tinged sugar granules.
Instructions
Preheat the oven to 375 degrees F.

In a bowl, mix together the dry ingredients-flour,salt, and baking soda. Set aside.

In your mixing bowl, mix the butter, chocolate hazelnut spread and peanut butter till well blended.

Add the sugar + egg and mix for another minute

Add to this mix, the milk and vanilla. Mix well.

Gradually add the dry ingredients and mix.

Now make small 1 inch sized balls and lightly roll, to coat, each ball in the colored granulated sugar.

On a pre-prepared cookie sheet (line with parchment paper), place each cookie dough ball with 1/2 an inch distance between each.

Bake the cookies for 10 minutes or until golden brown. (I prefer baking these for a good 10 minutes to get the cookies nice and crunchy.)

Take the tray(s) out of the oven and quickly but gently press a mini chocolate eggs into the center of each cookie.

Now all you have to do is wait till the cookies cool. (If you do eat them straight out of the oven, the chocolate eggs will be gooey at the bottom. If this is something you love, then go right ahead!)

Enjoy!
These would make great neighbors gifts if served on these beautiful Easter serving dishes or even a treat you could put out on the table when family and/or friends come over for your Easter meal.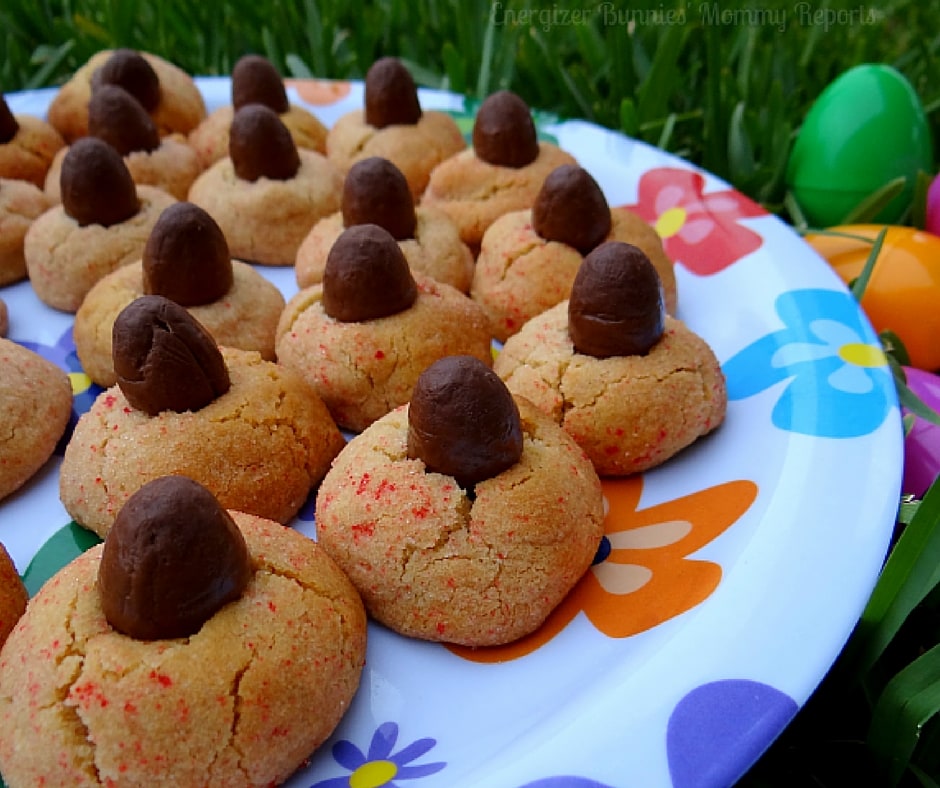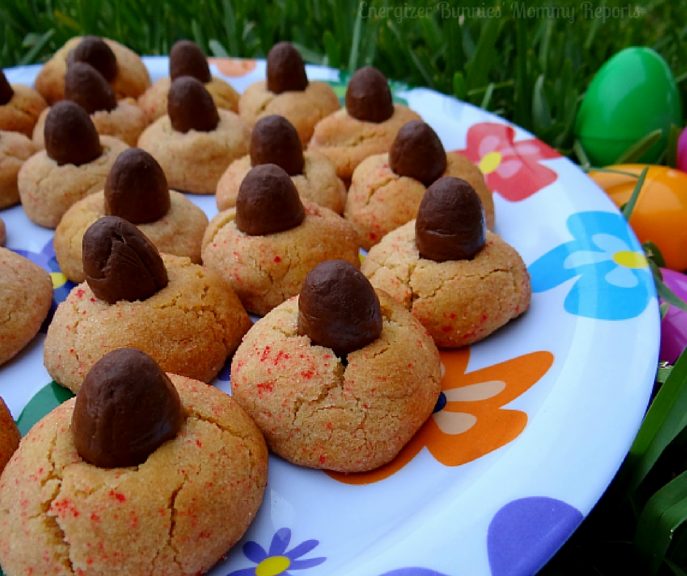 For more creative Easter and spring ideas, visit a few of my favorite bloggers:
I'd love to hear from you. Hop over to chat with me on Facebook and/or Twitter