Earlier this morning, a new acquaintance I made posted this on her Facebook wall…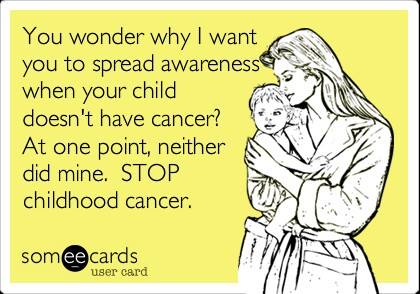 Her son's 8, my daughter's 8. While my daughter's making plans to join the soccer team and Girl Scouts, her son's preparing for his next round of chemotherapy.
It makes you stop and really think about life.
I have so much to be thankful for. My kids are healthy and that's such a big thing when you're looking at things from a different perspective.
But just because they're healthy, doesn't give me the right to shut my eyes to what kids around them are going through.
I may not be able to do a whole lot but little acts of love can make a difference.

September is Childhood Cancer Awareness Month. How can you help?
1. Monetary donations to the St. Jude's Children's Research Hospital are always welcome. They do such an awesome job in helping suffering kids and their families. Our family strongly supports their endeavors and love that they're pushing forward to reach that goal of a cure for every child.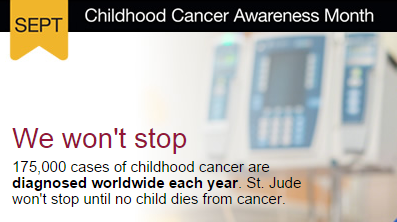 2. Support a local family or a family miles away with your monetary support, letters and cards, gifts, meal preparation etc. Get the kids involved by encouraging them to make cards for the young warriors. Find out what the child enjoys and perhaps put together a gift basket to put a smile on his/her face.
This weekend my kids will spend some time making encouragement notes of love and pictures to stick inside books for the gift basket we're making for the young boy in our city.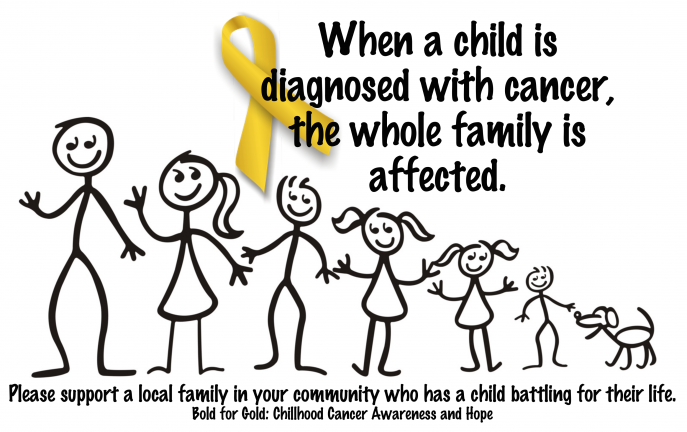 (As I share this, I can't help but remember Marla's son, Gunner.You can help learn more about Gunner and read how you can support him by visiting the Team Gunner Facebook page)
3. Use your social media influence to share another person's story. Spread the news about fundraisers to help rally up finances to pay off those mounting bills because every dollar really counts when added up.
4. Last but never the least, pray. Remember these families in your prayers. Stick reminders around your home and lift up their pressing needs for healing, financial providence, strength to get through each day and peace, as they trust God to work His Healing through. Never ever discount how valuable your prayers are!
Can you think of any other ways we can help, support and love these families and their young heroes?