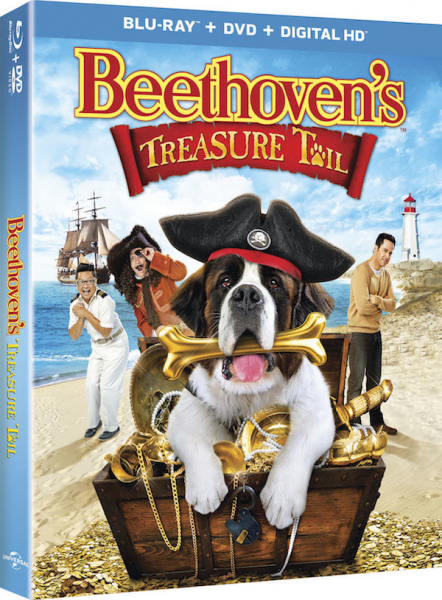 He's just as adorable as he was in his first movie. Yes, Beethoven is back and definitely into everything…
in Universal Studio Home Entertainment's release on Blu-Ray and DVD- Beethoven's Treasure Tail!
Get ready to howl with laughter in this all-new family comedy starring America's favorite St. Bernard, the one and only Beethoven! After a doggone disaster of a movie shoot, the big-hearted, sad pooch and his trainer, Eddie (Jonathan Silverman, Beethoven's Big Break), are heading home when they get stranded in a small coastal village- O Malley's Cove. When Beethoven befriends a local boy (Bretton Manley, Ted), he helps him find a pirate map to lost treasure and together they em-bark on an adventure that brings the whole town together. Co-starring Morgan Fairchild , Kristy Swanson, and Jeffrey Combs , it's a heartwarming "tail" about finding fun wherever your nose leads you.
This swash-buckling adventure involves pirates, treasure and lots of (scream this out now) "BEETHOVEN"s!
Just this past week, I was able to ask Jonathan Silverman a few questions about the movie…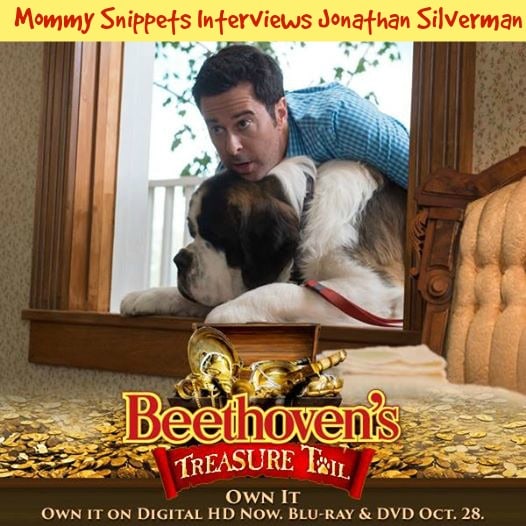 Beethoven is a favorite in so many households. What makes Beethoven's Treasure Tail different from the other Beethoven adventures?
The series of Beethoven movies have indeed been a family favorite in many households for years. I myself have been a huge fan, and Charles Grodin is one of my all time favorite actors, so when I was approached a few years ago to appear in Beethoven's Big Break I was thrilled. And I'm honored to reprise my role as Beethoven's trainer Eddie and join up in the fun in Beethoven's Treasure Tail. We shot the film in beautiful Halifax, Nova Scotia which is one of the prettiest locations I have ever worked in.

Beethoven and single dad Eddie have had a run of success working in the movies, but things aren't going so well when we  first catch up with them on this one and alas, they are fired off the film they are working on. They have no choice but to begin their drive home across the country and when their car breaks down in a quaint little fishing village, the adventure begins. The town they have been stranded in, O'Malley's Cove, is a stunning and picturesque place, but everyone there is going through a rough time themselves and all the locals are on the verge of financial ruin. But with the help of Beethoven, his friends…and a little luck, the town is saved!
Your favorite part about being in this movie?
I had the pleasure of working with an extremely talented and supportive cast: Kristy Swanson, Jeffrey Combs, Alec Mapa, Colin Mochrie, Morgan Fairchild and young Bretton Manley among many others. But my favorite part was the chance to work and laugh with Jayne Eastwood, who I consider to be a bit of a legend. Jayne is a original member of the Second City Comedy Troupe and hearing her tell the stories of working alongside and creating magic with John Candy, Eugene Levy, Andrea Martin, Martin Short and that whole brilliant gang was really worth it all! Such a joy!
Any challenges while working with "Beethoven"?
Well, WC Fields did give some advice to never work with children and animals…and of course, I spend a good deal of screen time working with both in this one. But my young co star Bretton Manley is a gem and I adored sharing the screen with him and really look forward to watching him in his many future projects…That kid is going to be a star! And my canine partner Goober, who plays the title role, was also a pleasure to work with. His "real" animal trainers should be commended  as well. This is a very smart, well behaved and gentle creature. Our scenes together were all so much fun. And he turned out to be a terrific scene partner. Physically agile, with his kind, soulful eyes..I honestly felt as if he was listening with rapt attention to everything I was saying.
The one thing you LOVE about the movie?
I think this film has a little bit of everything. The whole family can watch it together and enjoy it. Full of laughter and silliness and fun…I'm very proud of it and I hope we have the chance to make more!