Disclosure- Baked Fiesta Meatballs has been sponsored by Hellmann's. All opinions, nevertheless, are the author's own.  
Our family has a weakness for the Food Network channel, so when I read that Mario Batali was teaming up with Hellmann's to celebrate their 100th birthday I was excited to find out more.
Well, here's what I found out…
To celebrate Hellmann's 100th birthday, Mario Batali has created 6 original recipes that use Hellmann's mayonnaise in some way or the other.
But here's what's neat. You can join in on the fun by putting your twist on one of the recipes.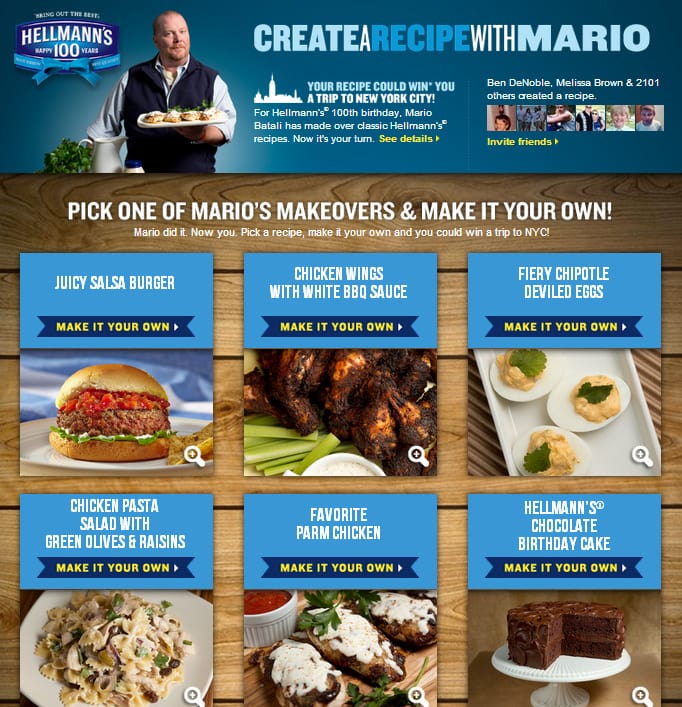 The recipes will looked over by Chef Batali himself and three of his favorites will be picked out and showcased on the Facebook page for votes. The winning recipe creator will  win a trip to New York City to celebrate the 100th birthday with all the big-wigs in person!
And you aren't limited to submitting just one recipe. You can submit as many as you want!
So yes, I thought I'd throw my twist on one of the recipes into the hat too!
Looking through the recipes I initially thought I'd do something with the chocolate cake but when I saw the Juicy Salsa Burger the first thing that came to mind was Fiesta!
And why not?
Hellmann's is celebrating 100 years in the market, so why not celebrate with…
Baked Fiesta Meatballs
?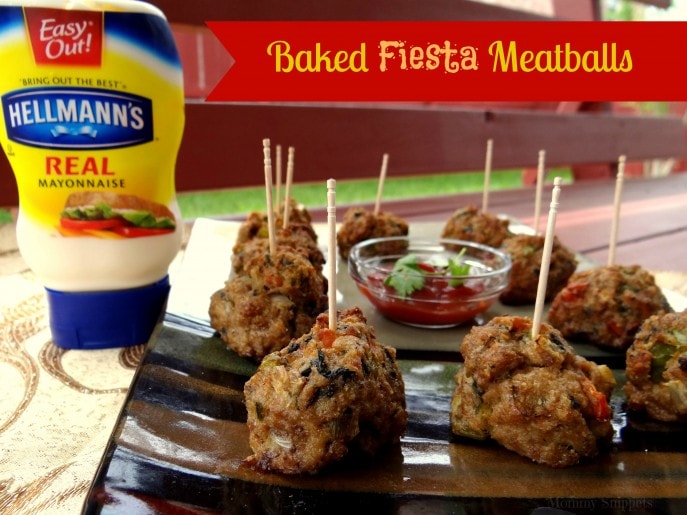 I thought these would make the perfect sized appetizer at a party birthday party for all ages. Not too spicy but yet packed with flavor.
I did do something a little differently while making these, I made sure I sauteed the onions, peppers, tomatoes, green chillis and cilantro only because I know how kids aren't big fans of chunky, raw tasting onion and pepper bits. And kids would be a part of  this celebration, so this had to be done!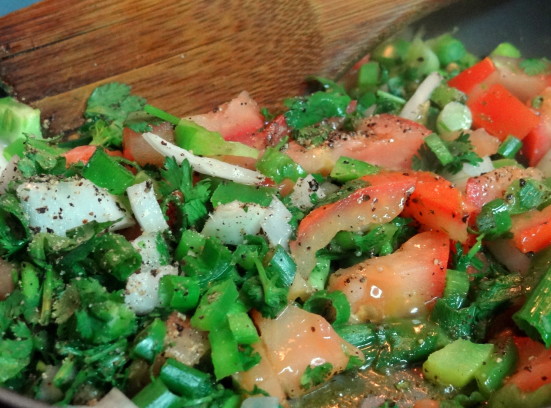 This recipe is super easy to make and is delicious. My kids just popped two meatballs in between a hot dog bun, slathered it with ketchup and made that their lunch!
Here's how you can make this…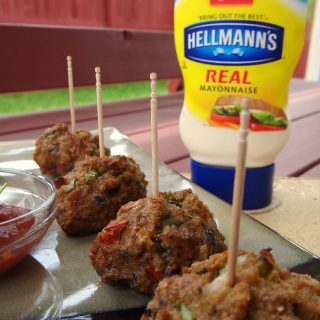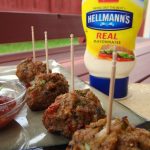 Baked Fiesta Meatballs
Ingredients
1

lb

lean ground beef

1

tablespoon

Hellmann's mayonnaise

1/4

cup

chopped white onions

1/4

cup

chopped spring onions

1/2 - 1

green chilli-chopped

2

tablespoons

green peppers-chopped

1 to

mato-chopped

Cilantro-1/2 cup-chopped

3/4

cup

plain bread crumbs

Salt to taste

Pepper to taste

1/2-1

tablespoon

olive oil
Instructions
Preheat the oven to 400 degrees F

In a pan, heat the olive oil for a few seconds and throw in the onions, tomato, peppers and green peppers.

Saute for about 3-4 minutes and then set aside.

In a large pan/bowl, add the ground beef, add the mayonnaise, bread crumbs and sauteed mix.

Mix well.

Form 2 inch balls or size as desired and plan on a foil lined baking tray.

Pop the tray laden with meatballs in the oven for 20-25 minutes.

Remove when crispy and browned.

Serve hot!
I'm thinking I can make serve up my yummy Baked Fiesta Meatballs at our next summer cook-out with friends.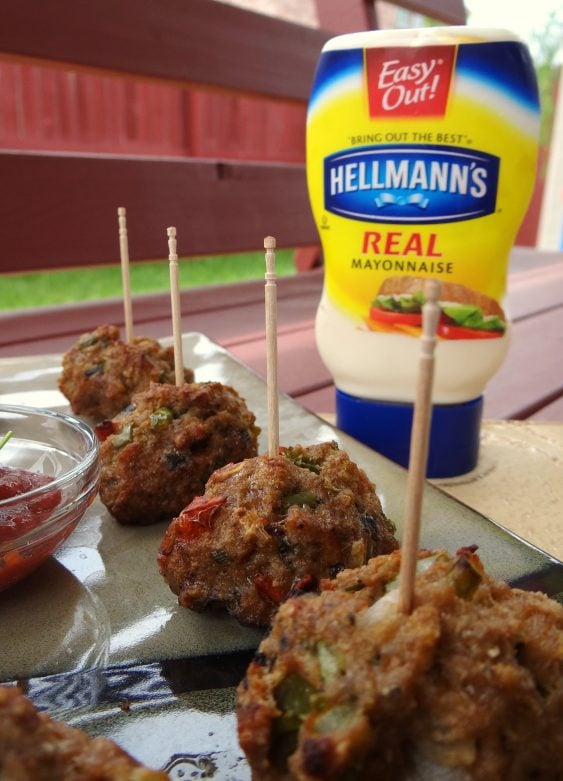 Wonder what Chef Batali would say?
Tell me, which recipe would you redo with your own twist?
(Remember, you don't need to take photographs etc. Just state the ingredients added, the name of your recipe and anything else you may want to add. Yep! It's super easy  to add your entry into the Hellmann's 100th Birthday Celebration Contest with Mario Batali!)