Becoming a parent has been one of the best things that has ever happened to me and Hubs. Our children complete us in a way we've never known and experienced. Every decision we make is weighed in thought and prayer because we know the outcomes don't affect us alone but our children too.
When we had our first-born,  we made the choice to give her the best. This naturally followed when her brother was born and just recently, her little sister too.
We have chosen to give our babies as natural a lifestyle as we can.
Why?
Because it really is so much better for their health.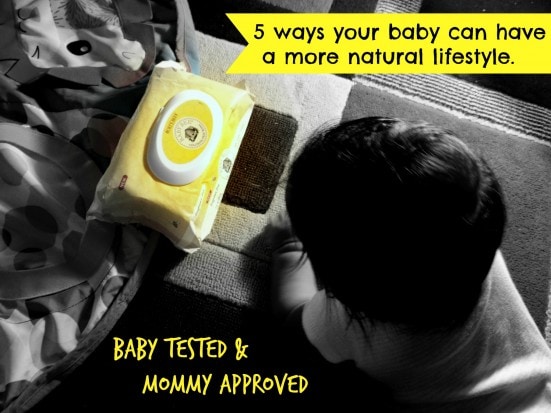 5 ways your baby can have a more natural lifestyle.
There are so many things you can do to introduce a more natural way of living for your baby. These are a few our family has adopted:
1. Breastfeed your child as far as is possible-
This is not always possible but if you can, I highly encourage this. Breast-milk has some many nutritional benefits for your child and you may not know this but there are numerous medicinal benefits too. (For instance, a few drops of breast-milk in your baby's eyes, every hour or so, when she has crusty conjunctivitis ridden symptoms, can bring a quick healing to the same. Generally you should see the improvement in a mere few hours itself.)
2. Wash your baby right after a loaded diaper, to avoid diaper rashes-
Yes, I know wipes are an easy way out but nothing cleans a baby's private areas better than good ol' soap and warm water.
3. Choose natural products-
Sure, these aren't always the cheapest out there on the store shelves but there's always a price you pay for quality.
Baby tested and Mommy approved are Burt's Bees Baby Bee collection that has natural ingredients in all their products.
I've loved using Baby Bee's lotion on my youngest especially before bedtime to keep her skin from drying out.  The chlorine-free wipes are also a hot favorite to clean little Missy's hands as she has just begun attempting to crawl and is teething too. (Yes, chewing her fingers is a common occurrence here!)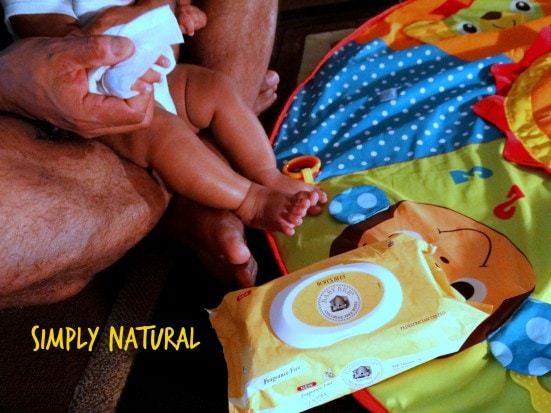 4. Make your baby's first solid foods from scratch
This may be a little more time consuming but definitely so much healthier as you know exactly what is going into your baby's mouth. Boil different veggies in a pot, make your own blends and freeze extras in ice-cube trays or small glass containers for later use.
5. Stay away from giving your child medication if not necessary.
That says it all!
You don't need to give your child cold medication just because she is congested. Find natural ways to help your baby find relief. Hold her near a steaming shower to unclog those sinuses, then use a manual mucus suction bulb to clear her nose.
Can you suggest another way babies can have more natural lifestyles?