Finding affordable, trendy, Spring clothing for kids is not always easy unless you know where to shop…
and how to shop!
My strategy is to shop online, pair coupon codes and hit the online sale racks!!
.
Shopping for my little man is a treat especially when I can find clothes that suit him up to look like Dad. And one store that helps me do just that is The Children's Place, especially while shopping for formal wear.
With Easter coming up next month, I wanted to pick up something special for him to wear to church and for the rest of the day.
.
Considering my soon to be 4 year old has just gone through a growth spurt, I needed to shop a complete look that didn't break Hub's bank.
Thankfully Coupons.com has been floating some pretty sweet The Children's Place coupon codes that helped make staying within budget possible!
By using a 25% off total order coupon paired with free shipping, I was able to pick up a pastel blue long sleeved shirt, navy blue formal pants, a striped tie, a leather belt and a short sleeved blue shirt for under 50$.
(Happy dance!)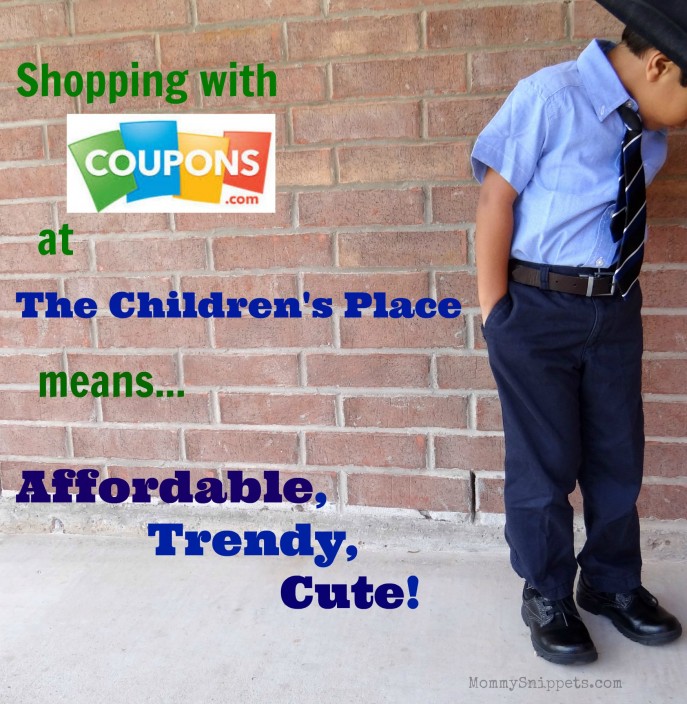 Since I had set aside much more for my little man's clothes budget, just in case, I can now shop for big sis and little sis too. And you can be sure I will be using those coupon codes again!
.
To celebrate Spring's arrival (if we keep confessing its arrival, hopefully the weather will warm up!), Coupons.com has teamed up with 11 amazing blogs to give away a 200 US$ The Children's Place e-gift card, to one of our readers. (Your choice.)
All you need to do is plug in your entry in the Rafflecopter form below…
and just pray that the random generator picks your name at the end of the month!