.
Welcome to Energizer Bunnie's Mommy Reports' Holiday Turkey Hunt page.
This "gobble"-tastic event has lots of excitement. I mean who doesn't love a great "Treasure" hunt (which in this case is the chance to win an Xbox 360!) but before you read more about it, here's a look at what you can win RIGHT HERE!!…
This light-weight Kodak model is the world's thinnest 5X optical zoom digital camera there is!
Watch the video to learn a little more about the camera and its specifications.
Click here to read more about the M590.
I know they say a camera is only as good as the pictures it takes, so here's proof of the M590′s quality-
.
Compared to my old camera, the quality I get with the M590 is great!
The zoom is fantastic, the picture clarity is great, the video quality is crisp and contrary to what I thought, the fact that it is very light-weight and slim does not mean it's fragile. (I've dropped it twice already and it has survived! Oh boy!) 
True, this cannot be compared to one of those fantastic high-end cameras that cost a pretty packet but this is a great substitute to stand in for the same till you do manage to by that "dream camera".(or if you're waiting for your kids to grow a little older, like we are! Bunny Boo is quick with his hands and loves pretty gadgets so an expensive camera is the last thing we need right now!!)
There are quite a few modes and options which I am still trying to get used to so I will admit I have had the odd overexposed or blurry photographs but once I've chosen the apt mode the photographs are beautiful.
Another option that makes this camera stand out is the "share" option that allows you to tag the pictures/videos and upload the same directly to the Kodak gallery, YouTube, Facebook or even to your email.
.
I only wish this camera worked with regular AA sized rechargeable batteries. With it's model specific battery I'm always worried I'm going to lose the same.
On the overall, I can confidently say that after close to a month's worth of use, I am very satisfied with our Kodak EasyShare M590. My biggest challenge is to keep it away from a certain little camera lover!
Win it: 
One reader will win a brand new Kodak EasyShare M590 Camera
 .
.
Here's what you need to do to enter our Kodak EasyShare M590 giveaway:
.
Use the Rafflecopter form provided below to enter this giveaway! Entries not recorded in the same will be disqualified.
** Entering via all the modes of entry is optional. The only mandatory is the 1st mode…but remember the more options you cross off, the higher are your chances of winning this fantastic prize!**
Here's more about our BIG Treasure Hunt Prize's Sponsor:   
.
SaveAndMakeMoola.com (SAMM) is your online resource for finding the best savings to your favorite online stores. Choose from over 30,000 coupon codes and deals from our 3,000+ retail partners. Save on everything from clothing and accessories to gifts and office supplies.   Don't forget to visit the Make Moola page for some great ways to earn a little extra cash.
.
.
.
HOW TO PARTICIPATE IN THE TREASURE HUNT…
Make sure you visit each of the participating blogs to get the secret clue.
Combine all 30 clues to discover the secret pass phrase that is the required entry for the grand prize giveaway!
The letters are assigned in order of bloggers, for example, the 15th letter  can be found on the 15th blog in the list.
To enter to win the Holiday Turkey Hunt Grand Prize – an XBox 360/Kinect Bundle – please visit The WiC Project and Mommy PR.
Enter on both sites to double your chances of winning!
.
.
Before you "trot" away, check this out!
The Holiday Turkey has left a clue!
The letter…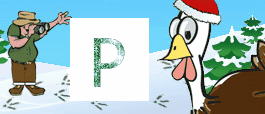 ..
.
Now hop off to the next link, find the next secret letter and enter some more great giveaways!   All the best!! . .  
**EBMR Disclaimer: I received the featured product for review purposes only. This review has not been monetarily compensated and is based on the views and opinions of my family and/or self. Please note that the opinions reflected in this post have not been influenced by the sponsor in any way.**